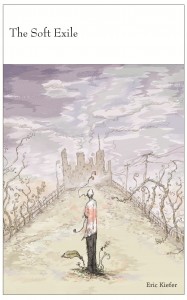 THE SOFT EXILE, By Eric Kiefer… A Novel About Suicide, Mongolia and the U.S. Peace Corps
Based largely on the author's experience as a Peace Corps volunteer in the deserts of Mongolia, The Soft Exile is the fictionalized story of a desperate race to become one of the "Good People"… or die in the attempt. Joining the Corps after an aborted suicide attempt, a young American spends two years in the fabled lands of the Mongolian desert-steppe, searching for redemption and an alternative to modern American life. Along the way, he constructs a low-powered radio station and tries his best to go native, all the while spiraling towards an inevitable showdown with a surprisingly horrific spirit animal that he may not survive.
Some would call it a love story, but "love" is a very hard word to define.
Now available online and in book stores!