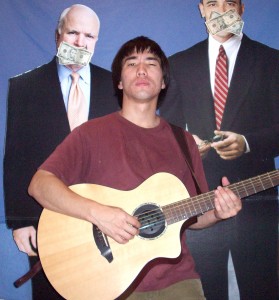 NOW SERVING… TROUBADOUR ON THE HALF SHELL!
A unique and entertaining musician, Eric Kiefer specializes in a one-man-band, singer-songwriter, musical mashup theater.
Kiefer's "wordsmithing" skills are apparent in his lyrics, which combine an old-school, 1960's revolutionary attitude with a fresh, new-millennium relevance.
Kiefer's discography includes his funk-folk tinged debut album, "The Spectre and the Dozer," as well as the full-length zombie concept album, "The New Zeitgeist: Songs From The Zombie Apocalypse" and its accompanying e-book, "The New Zeitgeist: A Tale From The Zombie Apocalypse."
ENJOY SOME FREE MUSIC AND VIDEOS BELOW !!!
(If you like what you hear and see and want to be a patron of the arts, check out my "Store" link to buy some music!)
Eric Kiefer presents the college-circuit hit, "Groin Ship", live and looped from his home studio