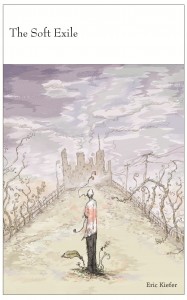 HOW TO PUBLISH AND PUBLICIZE YOUR PEACE CORPS NOVEL: RESOURCES FOR ASPIRING AUTHORS
By Eric Kiefer
I'll always remember the day my book, THE SOFT EXILE – A NOVEL ABOUT SUCIDE, MONGOLIA AND THE U.S. PEACE CORPS, was released to the world. Counting the time it took to gather the source material and repay my bar tab, it took me five years of gut-wrenching, soul-searching writing to come up with a final manuscript for that one. But at last, I could finally give myself a title that I'd wanted ever since I first heard the phrase…
I am a Peace Corps Novelist.
In the following post, I'll share some of the resources that I gathered from my experience. Wading through the ocean of Peace Corps-related publishers and media resources is a chore, but the labor is well worth the effort. Hopefully, this info will help you in writing, publishing and publicizing your own Peace Corps book. [Note: the following lists were last updated on 6/20/2012]
FORMATTING
Finished with your manuscript? Make sure that your baby is formatted correctly at the following website before you send it off: [LINK]. Remember, agents and publishers are dying for reasons to reduce the piles of slush that accumulate on their desks… make sure that your manuscript doesn't stand out in a bad way.
AGENTS
Your best shot at publishing your book is with a literary agent. A great place to find out more about what a literary agent can do for you is at the Poets & Writers website. There, you'll find a FAQ on lit agents, along with a killer lit agent directory to get you started.
Maximize your chances of landing an agent by doing some research about what lit agents are looking for.
PUBLISHERS
If you haven't found an agent that is willing to represent your book, it may be time to approach publishers directly. Unless you have some sort of personal connection or reference, forget about the larger publishers… almost all of them work strictly with literary agents.
Start building a shortlist of potential publishers where you can send your manuscript. (Head on over to the "small press" directory at the P&W website for a good list). Don't waste your time on publishers that won't be interested in your subject matter or genre. Also, a majority of the Peace Corps novels on the market are products of self publishing and print-on-demand companies (www.Lulu.com, Unofficial Peace Corps Volunteer Handbook… www.iUniverse.com, Peace Corps Experience: Write and Publish Your Memoir… etc.) It's a route that many new Peace Corps writers seem to be going down.
If you've got your heart set on finding a publisher, it's best to focus on publishers that have done Peace Corps books before. Check out some of the following publishers, and mention their previous Peace Corps books in your query:
Gentleman Tree Publishing (Published THE SOFT EXILE by Eric Kiefer),  www.gentlemantree.com
Peace Corps Writers (An imprint of Peace Corps Worldwide, PCW allows former volunteers to publish under the PCW name for a small fee ($150). The actual books are published by Create Space, a print-on-demand company). www.peacecorpsworldwide.org/pcw-imprint
Other Places Publishing (Prints a series of guidebooks exclusively written by Peace Corps volunteers)
Mammoth Books (Published

The Drums of Africa

by Tim Schell)
The Permanent Press (Published three books by RPCVs…

Under the Neem Tree

by Susan Lowerre,

The Turning Over

by William McCauley and

Fishing in the Sky: The Education of Namory Keita

by Donald Lawder)
Seven Stories Press (Published

Tea of Ulaanbaatar

by Christopher R. Howard)
Ten Speed Press (Published

The Insider's Guide to the Peace Corps: What to Know Before You Go

by Dillon Banerjee)
Other Places Publishing (Published

Americans Do Their Business Abroad: The Peace Corps Latrine Reader

)
University of Washington Press (Published

Living Poor: A Peace Corps Chronicle

by Moritz Thomsen
Clover Park Press (Published

From the Center of the Earth: Stories Out of the Peace Corps

)
Lyons Press (Published

The Ponds of Kalambayi: A Peace Corps Memoir

)
PeaceCorpsWorldwide.org (Not a publisher, but check out their old website here, which has an slightly-outdated, but still useful list of PC-friendly publishers and agents)
MAJOR MEDIA
Congratulations… you've found a publisher, or have decided to go the self-publishing route! Now it's time to promote your book. Your first step is to build a press kit for both you and your book. Make sure that you have an electronic version that you can push… sending out those review copies gets expensive!
Locating the major media outlets is pretty easy, if not time consuming… prepare to kill a few hours at the following links:
Now as for actually getting your book reviewed by any one of these media outlets… that's a different story. As you see, there are hundreds, if not thousands of media outlets in America, and only a relative handful of them do any sort of literary reviews anymore. For THE SOFT EXILE, I focused my initial attention on the following lists of media outlets, all of which, as of 6/20/2012, had some sort of book review section:
RADIO
(California): KQED, KPFA, KALW, KALX
(Colorado): KGNU, KUNC
(Georgia): WUGA
(New York): WBAI
PRINT
(California): The East Bay Express, San Francisco Chronicle, San Francisco Examiner, Contra Costa Times, San Jose Mercury News
(Colorado): Boulder Weekly, The Denver Post
(Florida): Creative Loafing Tampa
(Georgia): Creative Loafing Atlanta
(Illinois): The Chicago Tribune, The Chicago Reader, The Chicago Sun-Times
(Maryland): The Baltimore Sun
(Massachusetts): Boston's Weekly Dig, The Boston Globe
(Missouri): The Kansas City Star
(New Mexico): The Albuquerque Journal
(Ohio): The Cleveland Plain Dealer
(Other): USA Today, The Christian Science Monitor
(New York): The Village Voice, Newsday, The L Magazine, Buffalo News
(Seattle):  The Stranger
(South Carolina): Creative Loafing Charlotte, The Charlotte Observer
(Texas): The Austin-American Statesman
(Vermont): Seven Days
(Washington D.C.): The Washington Post
WEBSITES
The Daily Beast, Patch.com, The Book Report With Elaine Charles, Journal Jabber, Goodreads.com, FiledBy.com, NothingBinding.com, ShelfUnbound.com, ShelfAwareness.com, BookRiot.com, LitSeen.com, WhichBook.net, BookIdeas.com, OnceWritten.com
PEACE-CORPS-FRIENDLY BOOK PUBLICITY
Aside from the major media, there is a wide range of websites and groups that are hungry for Peace Corps novels. Your first publicity stop should be the wide range of Peace Corps social media websites. (A good place to start is the National Peace Corps Social Media Site, www.community.peacecorpsconnect.org) When you're done there, try some of the following Peace-Corps-Friendly websites!
HungryFeet.com (Does travel-themed book reviews, send query and author bio via their online form)
PeaceCorpsWorldwide.org (Does book reviews)
The SF Travel Book Club and Lectures Series (A MeetUp.com group, does book discussions and travel speaker lectures)
The NYC Returned Peace Corps International Book and Film Club (A MeetUp.com group, does book reviews)
Boston Area Returned Peace Corps (Contact Mary Knasas at (617) 282-3013 for more details about the group, has book club)
Columbia River Peace Corps Association (Has book club, contact at: bookclub@crpca.org, Bill Stein)
Returned Peace Corps Volunteers of Madison, Wisconsin (Has book club, contact Mary Ann Feutz for more details, mafeutz@uwalumni.com)
Seattle Area Peace Corps Association (Has book club, contact Book Club Chair: Jennifer Simon Halai, jensimon7@yahoo.com)
RPCVS of Colorado (Has book club, contact Rebecca Lipman, events@rpcvcolorado.org)
Heart of Texas Peace Corps Association (Has book club, contact info@hotpca.org)