WELCOME TO THE OFFICIAL ONLINE HOME OF THE AUTHOR AND MUSICIAN, ERIC KIEFER. 
WIPE YOUR FEET ON THE CARPET, AND COME ON IN!
*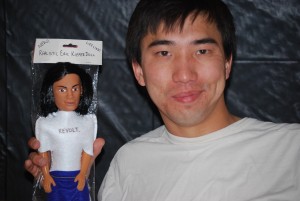 ERIC KIEFER is an award-winning writer, modern-day troubadour and 15-year factotum.
His debut novel The Soft Exile was named as one of the "Books We Loved in 2012" by the East Bay Express, and his journalism has won commendations that include three NJPA awards and a NJSPJ award. His writing has appeared in the North Jersey Media Group, Patch.com, The London Sunday Times, Listverse.com and Fiction Vortex, as well as many bathroom walls across America.
As a musician, he's fresh on the heels of his self-released zombie concept album, The New Zeitgeist, as well as his debut funk-folk tinged album, The Spectre and the Dozer and his poetry compilation, Spoken Word For The Doomed. He's appeared at various events, bars and venues such as The Crossroads in New Jersey, the Purple Moon Pub in Vermont, the Red Light Café in Atlanta and the First Rutherford Anti War Rally. He's also a seasoned (but semi-retired) busker who has anonymously haunted subways and park benches across America.