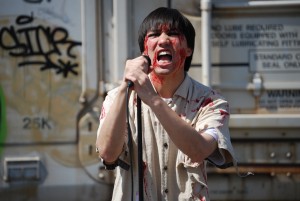 .

With THE NEW ZEITGEIST, author/musician Eric Kiefer hopes that he'll provide his fellow horror fans with something they've never seen before… the first "multi-media" zombie concept album.
"It's a rock opera and a pulp fiction novella for all of the deadheads out there," said Kiefer. "As far as I know, nothing like this has ever been done in the zombie apocalypse genre. The combination is the first of its kind."
It's clear that Kiefer is influenced by the classics of zombie lore – George Romero, Max Brooks, Robert Kirkman. While it contains its fair share of gore and action, The New Zeitgeist series focuses more on the day-to-day realities of life during the zombie apocalypse… what people do when they're not being chased around by the living dead.
The album and e-book are available through nationally-recognized digital distributors such as iTunes and the iBookstore, Amazon, eMusic, Barnes and Noble, CD Baby and more.
*
CLICK HERE TO PURCHASE THE DIGITAL ALBUM
*
CLICK HERE TO PURCHASE THE E-BOOK
*.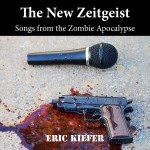 .
The story begins with the full-length digital a;bum, The New Zeitgeist: Songs from the Zombie Apocalypse. Framed as a post-apocalypse radio broadcast, the concept album features eight original songs including the epic-sounding finale, "Evolution" and the rock anthem "Destroy the Brain" (see the music video on YouTube.) The music is interwoven with DJ commentary and on-air news flashes that lend a creepy realism to the effort, providing plenty of replay value for hardcore zombie fans.
(Click album cover to hear free samples or purchase the digital  album!)
.
.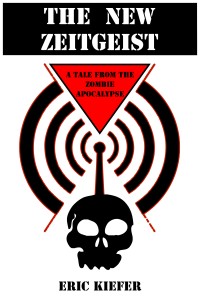 .
.
The lush storyline and setting is expanded in the companion e-book, The New Zeitgeist: A Tale from the Zombie Apocalypse. Designed to be read in a single sitting, the 16,000 word novella chronicles the origin story of Ray Bukowski, a songwriter who spends the zombie apocalypse trapped inside a New York City recording studio.
(Click book cover to read a sample or purchase the album)
.
.
.
.
CHECK OUT THE "DESTROY THE BRAIN" MUSIC VIDEO ON YOUTUBE