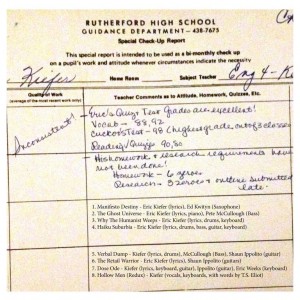 It's spoken word for the doomed.
Almost 20 years in the making – with hundreds of partial first drafts scribbled on supermarket receipts and paper bag scraps – Eric Kiefer's debut spoken word album is culled from barroom epiphanies and madness-fueled suburban vision quests.
"Spoken Word For The Doomed" includes original backing music composed by Kiefer and a talented consortium of troubadours.
The album features eight poetic interpretations, including the Kerouacian, saxophone-backed political scorcher "Manifesto Destiny"… the supermarket blues weeper "The Retail Warrior"… and the psychedelic musings of "Dose Ode."
NOW ON SALE AT ALL MAJOR DIGITAL MUSIC STORES!!!
CLICK HERE TO DOWNLOAD THE ALBUM AT BANDCAMP.COM (ALL MAJOR FILE FORMATS AVAILABLE)